A Priest leads people in a prayer using the technique of Dynamic Prayer taught by Master of Yoga Dr. George King.
Discover a unique, beautifully-designed place of worship
The Aetherius Temple is a unique, beautifully-designed place of worship in Fulham, South West London, dedicated to the spiritual ideals of peace, freedom, and enlightenment.
An atmosphere for raising your consciousness
The Temple was lovingly renovated over a period of several years, mainly by spiritual volunteers motivated purely by the desire to be of selfless service to others. This has helped to ensure that the subtle vibrations of the building itself are conducive to enhancing spiritual awareness.
A Minister and Priest light the candles on the main altar in the Temple.
A Priest leads people in an inspired prayer for world peace and freedom during a Sunday Divine Service. 
Imbue yourself with an energy of profound inspiration
The Temple serves as the venue for our events, as well as our free spiritual healing, Sunday Divine Services, commemorations, and Operation Prayer Power. These are some of the most sacred practices taking place anywhere on Earth – imbuing the Temple with an energy of profound inspiration. You can be a part of them!
For details of our interactive, experiential and educational events, which take place at The Temple:
For details of our regular spiritual activities at The Temple and at the George King Chapel, 5 minutes around the corner:
Discover more about the Temple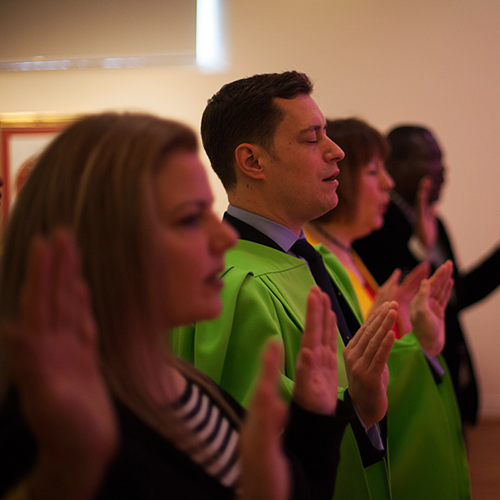 In The Aetherius Society we believe that God is all things, and when we pray we pray unselfishly for the world as a whole – so that all people may attain greater peace, greater freedom and greater enlightenment. These beautiful spiritual energies are ever present in the Temple now, after years of Services and other sacred activities.
The Holy Cross is a unique and powerful radionic device, designed by Master of Yoga Dr. George King. It is inlaid with stones from each of the 19 Holy Mountains of the world charged in Operation Starlight with special energies, and affixed at the top with the symbol of The Aetherius Society. Together the Cross and the symbol represent the resurrection of the spirit of man into God's wisdom.
A Priest in The Aetherius Churches praying at the Adepts' altar at the beginning of a Service. The altar is dedicated to six holy beings who have helped protect humanity and guide us all towards enlightenment. Their motto is "Service To Humanity Through Protection."
5 minutes' walk from the nearest tube: Parsons Green (District Line).
3-4 minutes' walk from the nearest bus: 14, 414, 424, 211 and 295.